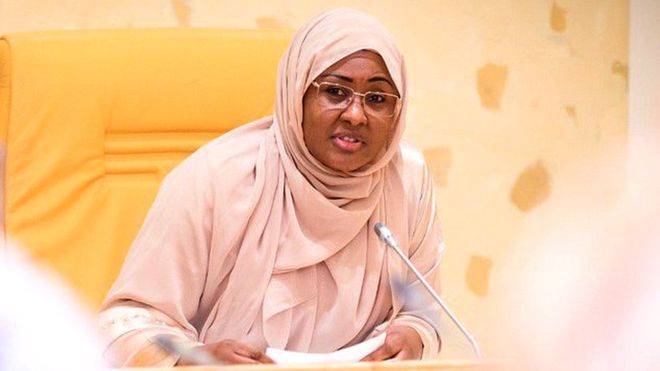 From the supposed rumor of President Buhari getting married to one of his ministers, to the blocking or locking out the seating First Lady from Aso Rock among other things rumor has, we all can smell the smoke. Now it is either there is a cooking festival at the Presidential Villa (meanwhile Aisha is not in the kitchen) or there is an roaring fire warming up around the corner.
In an interview granted by BBC Hausa to the First Lady of Nigeria, Aisha reportedly confirmed that she was the one speaking in the video, noting Fatima recorded the video laughing and mocking her. This was a video which trended on Friday. In the video, Buhari's wife was seen miffed and complaining about being denied access to her apartment
Aisha Buhari added, "They failed to do anything about the video because it was Fatima, Mamman Daura's daughter … and both me and the securities our hands were tied to do anything, and it still continues till today".

"They did that because my husband sacked them from the house. He told them to get all their belongings and leave the house for my son (Yusuf) to occupy.
"I left them and wanted to get to one of the rooms but they prevented me from getting through, I left them and took another way yet I met the store locked."
Who exactly are the Daura's taking over the Presidential Villa?
Mamman Daura is a Nigerian journalist and businessman who was appointed editor of the New Nigerian newspaper a few months after completing his graduate degree. He is a nephew and long time close associate of Muhammadu Buhari.
And people have begin to say a whole lot of things:
'The unofficial president of Nigeria is Mamman Daura and the vice is Abba Kyari. If you are in doubt, go and ask Madam Aisha Buhari.'

'I won't blame her because she feels threatened and suppressed as the first lady but it's important to note that she overreacted considering the explanation of dauras daughters. Meanwhile, we pray that the truth in the aso Villa comes open totally.'

'The difference between patience Jonathan and Aisha Buhari is that patience Jonathan wouldn't have let it get to that point that she no longer controls the affair of her home… She's a proper Niger delta woman Aisha is too quiet and soft'

'Same Mamman Daura who couldn't help Buhari's first wife while he was in prison. Same Mamman Daura who left them to go beg IBB & then instigated her divorce for begging the man who imprisoned Buhari. Same Mamman Daura family against Aisha Buhari. Does Mamman have Buhari's nude?'

'For the first time after many years of bullying and tyranny, First Lady Aisha Buhari got the opportunity to pour out her mind, and it's obvious she's happy to do that. She has conquered her fear for Mamman Daura — the genie in the bottle.'

'If Fatima, Mamman Daura's daughter could have the gut to dare Aisha Buhari the First Lady and the securities and Buhari himself cannot do anything, how much more Mamman himself. Stranger Things happening in Asorock. Mamman is truly the power behind the throne of Nigeria.
'