Several stories are coming in about the naked lady found on Ajah road, Lagos Nigeria. While some claim she was dropped off by a man in a Jeep; some said it was a Benz, other say it was just an ordinary car. Meanwhile, there are other stories about this same lady in Ajah.
First here are pictures that we have gotten of her: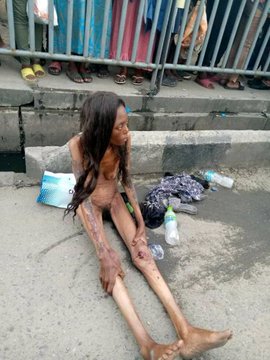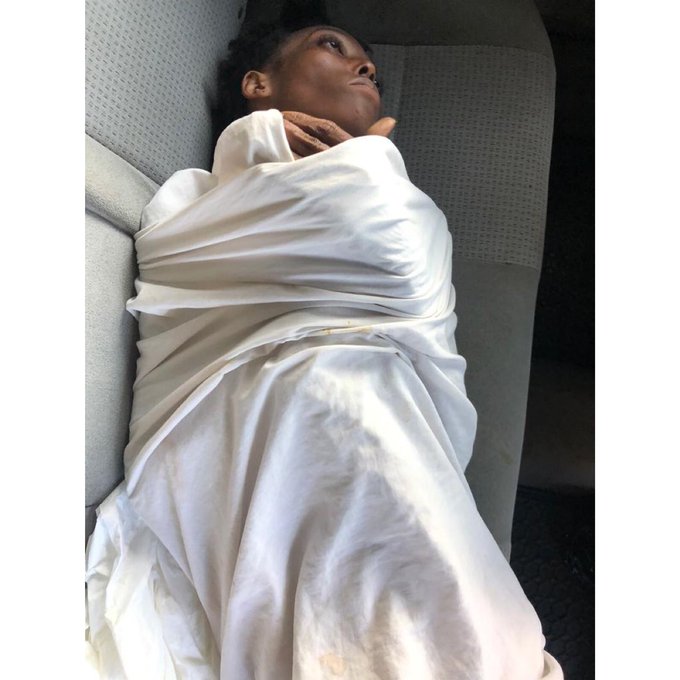 On other developing stories about this same lady in Ajah: There are those with the opinion that she was sent out of her home due to her discovered HIV and AIDS status. There are appearing pictures showing that she has been helped by some good and willing people. But there are no authentications yet. Though, a twitter user identified as Solomon Buchi has some prove to share:
Pls help. This is Ene. She is HIV positive. If you stay in Ajah, you'll see her naked with people throwing stones and hurling insults at her. My friend rushed her to took her from the road to LUTH, trying to get her medical care. LUTH is delaying. Pls retweet. We need to save her pic.twitter.com/d9DRC70jiD

— Solomon Buchi (@Solomon_Buchi) October 17, 2019
WATCH VIDEO:
-Viewers discretion: Young lady said to have allegedly been thrown out of a fast moving car yesterday,at under bridge in Ajah, Lagos.

-Check #Thread for picturespic.twitter.com/zvAezvb61V

— Postsubman (@Postsubman) October 17, 2019

There are several notification on how the lady was being treated. According to report it show that the society refused to accept her and help her with her situation, rather they spend time criticizing, judging and making up stories about her state. It was also perceived that there were stoning and abusive words been rained on her before she finally got help. Many condemn the nonhuman behavioral response among other things.
WHAT WOULD YOU HAVE DONE DIFFERENTLY IF YOU WERE THERE?